Click on a picture for a larger view - Press "Back" on your browser to return to the album.
Stats ..

February 28, 1999

Water temp - 70 degrees

Air temp - 78 degrees

Water - clear to stained

Location - upper Lake Conroe

Bait - artificials

Tally - 10 White bass between three fishermen in an hour.
---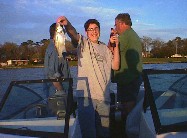 ..... "Mark puts the first fish in the boat"
..... Now Charles can't say Mark can't catch fish
Needed to shake the boat down after a few months off. Got to the ramp at 3:00. Launched and the boat wouldn't start. Found out the starter cable was bad. Rigged it to work for the day. Tried to find some bass but at 3:00 on Sunday afternoon, the lake was beat to a froth. Tried under the 1097 bridge for crappie - nothing. Caught sight of birds working a few miles away. Ran for the birds and immediately started putting white bass in the boat until dark. Only one throwback. Most were filled with eggs - looks like a few weeks till the spawn.
Tim Constance
tconstance@usa.net
Date Last Modified: 1/26/98