Sam Rayburn Fishing Trip Dec 26, '98 Photos

Click on a picture for a larger view - Press "Back" on your browser to return to the album.
Stats ..

December 26, 1998

Water temp - 45 degrees

Air temp - 24-40 degrees

Water - stained

Location - upper Sam Rayburn Lake fishing the old Angelina river bed

Bait - minners and jigs

Tally - 40 fish between three fishermen, two white bass, the rest crappie, most were at least a pound with a few bigger.
---

..... "Can you pick me up at 4:00?" ..28 degrees in Houston.... 23 degrees at the Marian Ferry boat ramp.
..... Beautiful dawn on the lakeNo wind, slightly foggy, glassy water, ducks in the air.

..... Tim with the first fish a nice 3 lb white bass.

..... Our captain was the Unibomber This is the same captain that put the next World Record White Bass in the boat the week before.

..... Greg explains how it's done during a lull in the action.

..... Never trust a guy with a camera "Come on...... I was scratching."

..... Nice Crappie fighting at the boat.

..... Greg with a nice one and very happy.

..... Tim with a nice one on ICE - yessss it was cccold.

..... Greg the day had its moments.
..... Greg "It's not getting dark yet is it?"

..... Darien trying for one last fish

..... The sun setting over our bank of rods.

..... Oh my gosh, they killed Kenny! The Unibomber and Cartman go fishing.

..... On the pad and running home on glass.
..... Sunset on Big Sam The world record white bass boat idling into the sunset.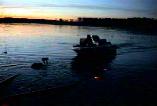 ..... Loading up The day's over except for fish cleaning.
..... Click Here for.. a special fishing picture.
Read the report about crappie in the Angelina River and had to go. Friday night called a buddy that used to live in Lufkin and fished Rayburn all the time. I wanted to take my boat but he had a buddy that was going anyway and it saved us hauling a boat all the way from Houston. Had trouble finding minners but talked a lady into scrounging up six dozen. Got to the Marians Ferry ramp at 6:30, air temp 24 degrees. We found crappie scattered but regular all day. We'd tie to a tree on the old bank, back the boat into the channel, anchor the back of the boat, and fish the slope. We caught them on the bottom, suspended and even a few feet from the top. They were slow but three of use managed 40, no monsters, but most were nice and only a few throwbacks. A nice dividend was a three pound white bass. Tried jigs but only managed a few bumps and a one pound white bass. BTW. the boat we were in landed the next world record White Bass the week before. It weighed 8 lbs when caught but was a little over 7 by the official weighin. You heard it here first.
Tim Constance
tconstance@usa.net
Date Last Modified: 1/26/98