Sam Rayburn Fishing Trip Jan 01, '99 Photos

Click on a picture for a larger view - Press "Back" on your browser to return to the album.
Stats ..

January 1, 1999

Water temp - 49 degrees

Air temp - 55-70 degrees

Water - stained

Location - upper Sam Rayburn Lake fishing the old Angelina river bed

Weather - Stormy, rain, wind, fog, hail

Bait - minners spinners and jigs. They were hitting fire tiger Rooster Tails, white jigs, and chartreuse bettle spins.

Tally - 91 fish between four fishermen, a few small black bass, most were at least a pound with a few bigger.
---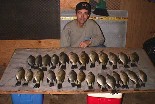 ..... My fish - a limit enough to make the grease stink.
..... Greg puts the first fish in the boat.

..... Greg's dad, Lester still has it.

More pictures to come soon.

..... My catch is featured as the "Catch of the Week" on Outdoor Central website. Go to the "Catch of the Week" Photo link from the main page.

Put in at Marian's Ferry at 6:30 with two boats and four fisherman. Greg brought his 82 year old dad. It rained off an on all day. Greg and his dad were wet and went in around 11:00 and towed a boat back to the ramp that ran out of gas. They had 41 between them. Gregs dad had a great time. Darien and I toughed out the rest of the day. We sat through fog, rain, drizzle, sunshine, lightning, dead calm water, rough water, south wind, and north wind. One guy came by and told us there were tornados spotted within 30 miles of the lake. Darien said not to worry, because he'd been under two tornados and they were always preceeded by hail. An hour later it began to rain marble size hail. Spooked us for a while, but no tornado. We toughed it out till dusk and put two limits of crappie in the boat. This trip we caught just as many on white or charteuse jigs, beetle spins, and Rooster Tail spinners as we did with minnows. We also picked up three throwback black bass and a few throwback white bass. Total tally was 91 crappie for four fisherman. Another good day on Sam Rayburn.
Tim Constance
tconstance@usa.net
Date Last Modified: 1/26/98